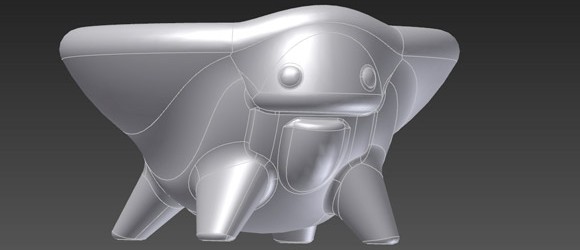 I wish you all a Happy New Year! The year is pretty young and i've so much new stuff in work!
First of all, the last few XMAS PEARBLOCK's will find a new home today at my grandparents and grandaunt's shelfs. They where a great joy to give away as Christmas presents. So i have one last left (No. 01/16). I will sell him here on the Page for you in a few days! Stay tuned if you want to grab this unique handcrafted 2.5 inch Wood Designer Toy by Pepe for your own collection.
Now to the latest: CRESS CRITTER – Keep your eyes open, long gone species will revive 2010! Check the data-sheets I found deep burried in a secret vault of this ancient little fella… Strange things will come, be warned! ;)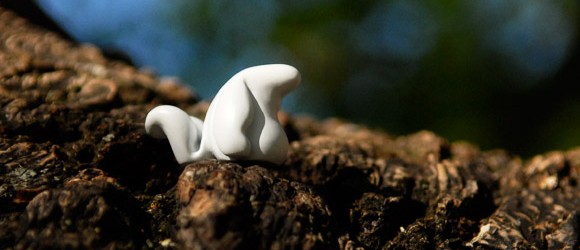 SQUIMONK – This chubby guy is my second entry for the Aarting DIY Toy Challenge! Please vote on aarting.com for my SQUIMONK!
SQUIMONK's lives high up in the trees and rarely come down to ground to pick up the yummy fir cones. That's the reason why they have a slightly beer-belly. As you can guess, they know very well how to brew really tasty fir cone beer in their brewery!
Read More

»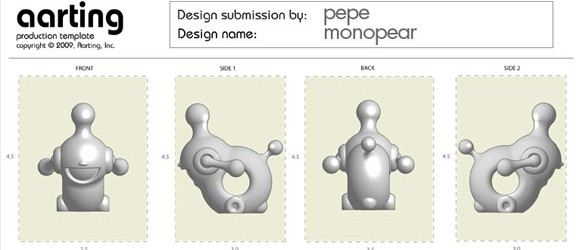 Last week i spoted on aarting.com a D.I.Y Designer Toy Contest. Check the submission guidelines, download the templates and design your own toy. This is your chance to design the toy's actual shape. That's right, designers from all over the world will be able to customize something that you designed! This means that you're now free to come up with any original shape you want, in any style. The deadline for the toy entries is the 30. Sept 2009. So this guy is my entry for the aarting designer toy contest:
Read More

»