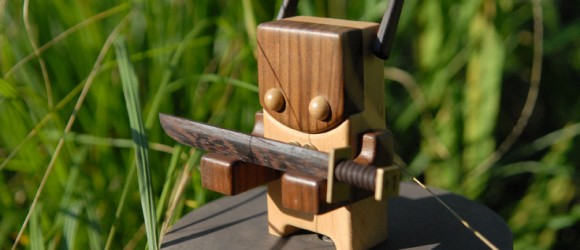 Can't believe there were no updates from my side for such a long time! So let's break the ice! :] I'd like to let you know what i did over the last two years and more important what i'd like to do in the near future!
I've never stopped to work with wood, creating new designs or tinkering on new ideas. But after the birth of my lovely daughter the whole social-media circus that i was doing for my wood toys was a tad too time intense for me and i wanted to share more of this time with my family. Being always under pressure to share new content and creating new designs was rewarding with all your great comments, mails and kudos but also kind of paralyzing.
So why coming back after such an long hiatus you might ask…? Well because i just can't stop doing to do what i love: Designing and crafting wood characters! :) I decided to work out a concept that i can manage in a good way and that allows me to produce designer toys for shows and for my collectors. I'd like to give me complete freedom design and material wise but the plan is to do one release at the end of each month. This can be a small series or an exclusive design that i will offer trough my Webstore. In addition i do work on collabs and doing pieces for shows once in a while so there might be even more to see from me but the monthly release is set.
These releases i will announce trough all the usual channels like my Newsletter, my Webpage, Twitter, Instagram and Facebook, so follow me on whatever channel suits you best and you won't miss the new designs. I will reduce the update pace on social media a little but of course i will still post work in progress and sneak peek pictures of my designs from times to times. As far as i remember you guys loved to see behind the curtains. Speaking of new designs, i think i'm still cleave to my style but i also have developed myself and my art further.
At this point I'd like jump at the chance to thank you all for such an amazing support for my work over the last few years. I had and still have so much fun doing pieces for my collectors and working on collaborations with other great artists from around the globe. I do meet a lot of awesome peoples trough my art and this is something that i'd never want miss as i'm really grateful about these experiences.
Now as you know me, I wouldn't dare come back without a little sneak peek preview in my sleeve of what you can expect from me.

The September release will be RAKU – a 5 inch Walnut/Alder Wood Samurai! ^__^
Best
Pepe