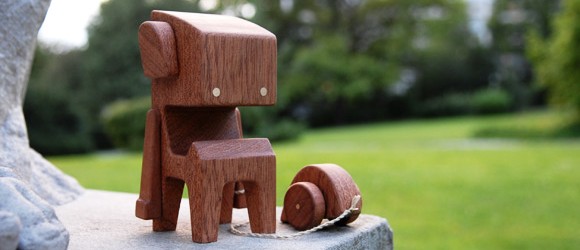 I was invited to do a piece for the "Memories Are Made of This" Show at MunkyKing Store LA. I did sent "Benz & Jilla" to attend at this great event, i'm sure they will have fun there together with Super Cooper who celebrate his 13th birthday today! :] "Benz" loves to wandering around in green plains and does enjoy the the warm summer breeze with his little pull toy named "Jilla". Benz & Jilla are made out of brass and sapele mahogany wood with a bees wax finish. This is a one off piece, signed & numbered by embossing and you can adopt them today at the show if u like!
Congrats to Cooper! I can't fly to LA so i'll carve some more wood chaps here in my studio but if you're in the area be sure to head over to Munky King Saturday August 18th to meet my "Benz & Jilla" and see all the amazing artwork from the participating artists. Read more on the FB Event Page about the "Memories Are Made of This" show.
Hello Everyone!
This is Super Cooper and I am turning 13! To celebrate, I am curating my 3rd annual birthday art show called "Memories are Made of This." It is an art show based on childhood memories. It will be hosted at Munky King Melrose as their last art show! This show will benefit the Los Angeles Children's Hospital 4W Supportive Care Committee and the CHIME Preschool Inclusion Program. There will also be live painting by some amazing artists, great food, and lots of fun! The show date is Saturday, August 18 from 4pm – 8pm. 
Artist include:
100% Soft, 9-Kei, Adrienne Gates, Alice Koswara, Amanda Milteer, Angela Oriol, Annie Rivera, Ayleen Gaspar, babyvtec, BeeFy, Bella Berella, Bert S. Gatchalian, Blake Barry, Brian Castleforte, Brian McCarty, Cameron Edison, Cheech, Chikuwaemil, Chris Granillo, Christina Cannarella, Christopher Bonnette, Cole Griffiths, Corin Cruikshank, Dani Bowman, David Biederman, David Zajdman, ECKOTYPER, eimi, Emily Borchardt, EOS, Eric Scarecrow, FrankenFactory, Frank Schaefer, George Gaspar, Germs, Giselle Knight, Greg Berella, Isaac Flores, J. Shea, Jarrett "m0e" Nadrowski, Jay222, Jeremiah Ketner, Jerome Lu, Josh Mayhem, Josh Taylor, Joshua Herbolsheimer, Juan Muniz, KaNo, Kat Brunnegraff, Kat Muniz, Kat Rivera, Kevin Dickson, Kim Chueh, Lap Ngo, Leecifer, Lindsay Walczak, Lou Pimentel, Luke Chueh, Mari Inukai, Martin Hsu, Matt Hawkins, Mike Die, Misha, Mylene (I GOT SOLE), Nao Shimojo (Danke Schoen), Nathan Hamill, nati513, Nebulon5, Pepe Hiller, Phoneticontrol, Plasticgod, Podgypanda, Rustedhalo, Ryan the Wheelbarrow, Satoshi Yoshioka, Scott Tolleson, Sebastien Pablo, Shane Jessup, Shawn Wigs, Shelby Barrett-Whitmore TAG, Shin Tanaka, Shojono Tomo, Skylar Grey, Spencer Wilson, Steven Slomkowski, Super Cooper Berella, Taskone, Tiernan Wilson, Tom Morello, Touma, UNCLE, Yoskay Yamamoto, Yuu Tihara, Zombiemonkey, Zoso, and MORE!