PEPE BRASS BRANDING – Signature Tool for Wood Toys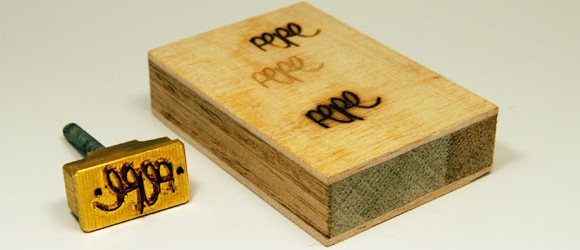 After the first wacky try to make a branding tool (HERE), i made me new tiny brass branding iron stamp for my wooden toys.
This time, instead of using a common font, i did vectorize my signature and let the CNC mill do the work with a our smallest 0.3mm drill. Afterwards i made a brass mount with M2 screws for holding the stamp plate in position. The signature stamp is approx. 15mm wide. I still have to get a good feeling how long i have to press on different woods till the signature is burned clean into the surface.  So far i'm pretty happy with my new tool and it heats up very nice while clamped into a 40W soldering iron.
Now all my new wooden stuff will get some hot mark on their butts for sure! ^____^