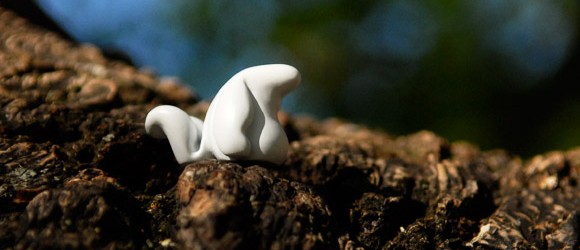 SQUIMONK – This chubby guy is my second entry for the Aarting DIY Toy Challenge! Please vote on aarting.com for my SQUIMONK!
SQUIMONK's lives high up in the trees and rarely come down to ground to pick up the yummy fir cones. That's the reason why they have a slightly beer-belly. As you can guess, they know very well how to brew really tasty fir cone beer in their brewery!
Read More

»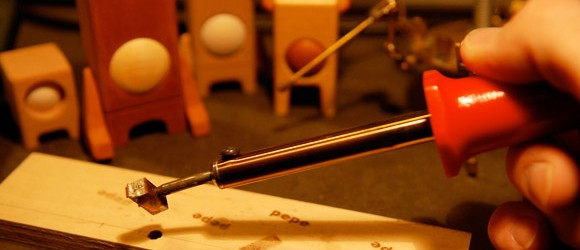 I'm a huge fan of brass, it's really easy to work with it and it's perfect for my next small experiment: branding my wooden toy hordes! I used the CNC milling cutter to get me some small brass stamps with my name engraved (first attempt was a miss, because i forgot to mirror inverted the letters…urgh!). I used a soldering iron and needed some patience with the sightly goatish PEARBLOCK guys, but finally i got the result i was looking for!
There are also a few pictures of a new wood fellow, i call him the PEARDEER! I finished him with a nice and shiny semi gloss finish, hope you like him…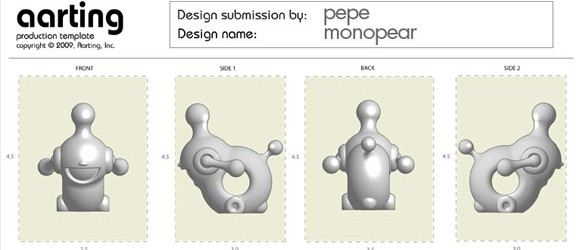 Last week i spoted on aarting.com a D.I.Y Designer Toy Contest. Check the submission guidelines, download the templates and design your own toy. This is your chance to design the toy's actual shape. That's right, designers from all over the world will be able to customize something that you designed! This means that you're now free to come up with any original shape you want, in any style. The deadline for the toy entries is the 30. Sept 2009. So this guy is my entry for the aarting designer toy contest:
Read More

»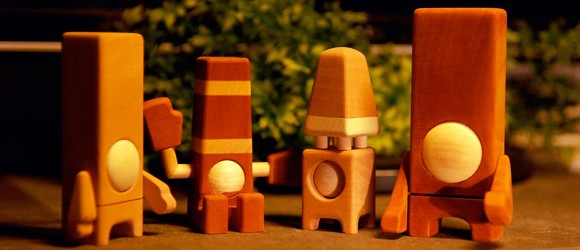 I'm really having a rush with these wooden toys…it's getting more and more like an addiction. Everyday coming home from work with a new tiny toy in my pocket. As you can see my first PEARBLOCK did met some fellas to hang out at the woods! :) See some close-up's of the new wood chaps below.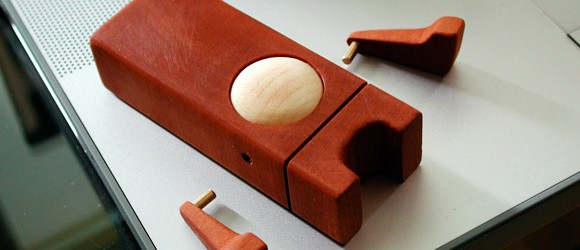 Today i had to work at the model workshop during the morning. I was really bleary-eyed from last nights page template customizing, but on the side of working i made me a quick wood toy. Had no sketches for this little guy, it was just cutting and sanding into the blue. The design has only two joints for the arms, so it's kind of first prototype. I like him so far and looking forward to define some details (proportions, face, painting). maybe i'll try out some silly ideas… ;)
The little wodden PEARBLOCK prototype is made out of pear and oak wood, finished and coated with natural linseed oil.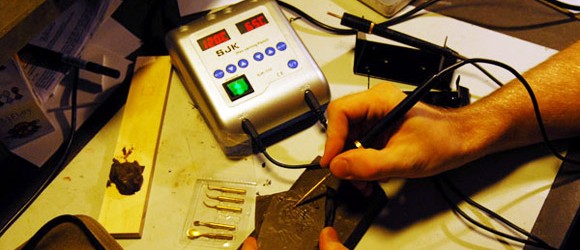 Today the Wax carving Pencils found their long way from Shanghai to my Studio. I thought about to build me a DIY wax carver out of a soldering iron, but for now i've found a solution about a week ago on ebay. Shipping was free and fast but the Swiss customs duty was pricey. The product name is "Dental Lab Electric Wax Carving Pencil SJK-II" and the list price was 89$, so i suggested a price of 80$ to the seller and he agreed…maybe you could go even with a lower price…i  would definitively try, if i had to buy second one.
For some first impressions, watch the short slide show movie of setting up and testing the wax carving pencils.
Read More

»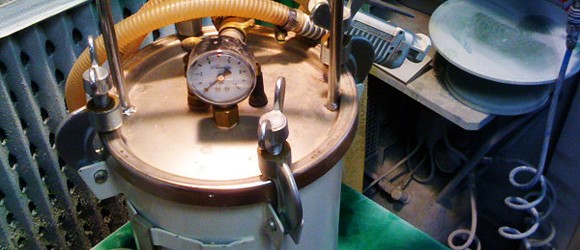 For the time being i'm working on a new series of five critters for a small limited series. It's a new way to sculpt my creatures out of wax after done a quick mold of the clay prototype. I haven't finished yet my actual sculpting tutorial on this but i usually do take a lot of work in progress pics, so be sure to check the tutorial section again. Until then, i'd like to share with you some of the finest online resources about sculpting, DIY toy making and molding stuff out there in the web. Enjoy!
Read More

»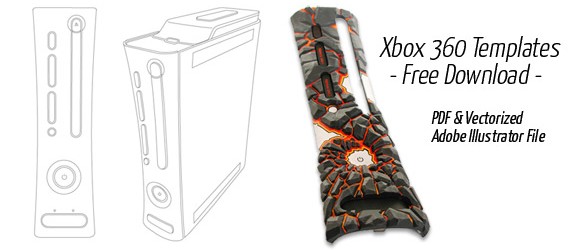 Over the years, many customizers & case modders have send me a message to get my vector outline XBOX 360 Faceplate & Case Templates. I created these to work on my own designs for the Swiss Microsoft Faceplate Design Contest. I decided now to move the files over here to my new portfolio blog and get them ready for you as free download, yay! ^____^